#AceHistoryReport – Apr.25: Earlier excavations near Scalford, Leicestershire, found traces of a building with mosaics, wall plaster and a hypocaust heating system:
Leicestershire Roman settlement 'surprised' villa dig team: 'Archaeologists said a survey had shown the extent of the villa but also a possible farm or village nearby'
10 hours ago
By Greig Watson
BBC News, East Midlands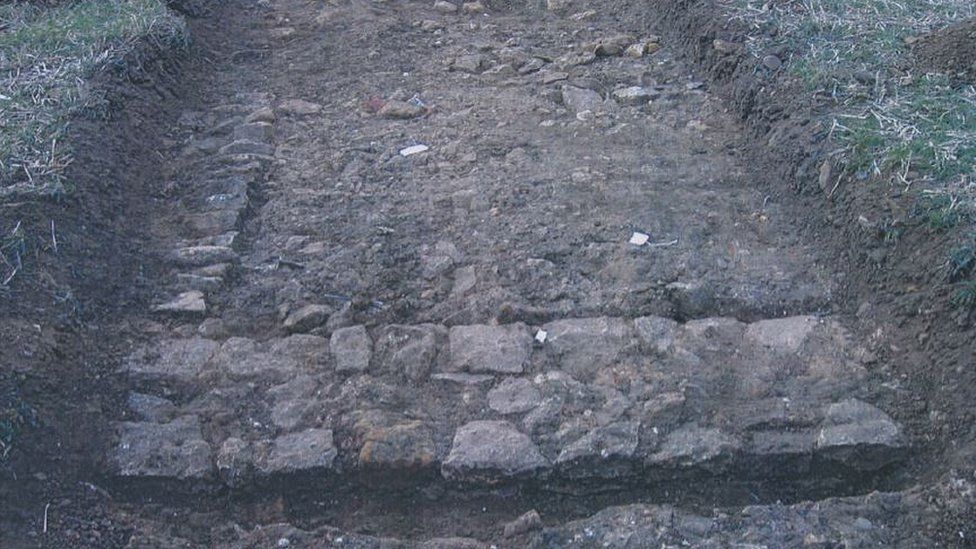 Rupert BirtwhistleGeophysical surveys (left) showed dark patches which archaeologists interpret as ditches and walls
Excavation director Rupert Birtwhistle said: "We just went with a hunch after looking at the site on Google Earth."……….The villa, the precise location of which is being kept secret, was partly investigated in 2003 and 2004 but its full size was still unknown.
A research group from Past to Present Archaeology went to the area last year with equipment that can detect walls and ditches underground: They wanted to map out the villa but also find the source of prehistoric stone tools discovered nearby: Rupert Birtwhistle: The team had hoped to find the source of prehistoric artefacts but so far have had no luck
Mr Birtwhistle said: "The villa was large enough that it went off the edge of the surveying area: " And while we did not find any obvious prehistoric traces, it was a complete surprise to come across the Romano-British settlement: " Limited excavations at the new area confirmed ditches and enclosures and part of a wall.
Mr Birtwhistle said: "For this settlement to possess buildings means that it was substantial, but we need more work to examine its connection to the villa: " We will be examining this further over the coming years."The group is hoping to use crowdfunding to run excavations on the site next year.
The BBC is not responsible for the content of external sites.
#AceHistoryDesk report ……Published: Apr.25: 2021:
Editor says #AceNewsDesk reports by https://t.me/acenewsdaily and all our posts, also links can be found at here for Twitter and Live Feeds https://acenewsroom.wordpress.com/ and thanks for following as always appreciate every like, reblog or retweet and free help and guidance tips on your PC software or need help & guidance from our experts AcePCHelp.WordPress.Com